Join Team Rebecca
Get the latest information from the Team!
Meet Rebecca Seawright
Assembly Member Rebecca Seawright represents the 76th Assembly District, including the Manhattan neighborhoods of the Upper East Side, Yorkville and Roosevelt Island. Seawright is a lifelong advocate for women's rights and is a champion for education at all levels, senior citizen, human rights, and LGBTQ+ rights, affordable housing, environmental protection, public health, election reform, criminal justice reform, and government transparency.
Along with her colleagues, she achieved the strongest rent reforms in New York State's history, making rent stabilization and rent control permanent. She is a fighter against discrimination, intolerance and violence. She obtained passage for a new law providing for insurance coverage for women and men who need 3-D mammograms for breast cancer detection. She introduced and passed an Equal Rights Amendment to the New York State Constitution. She has secured $12 million of funding for her district's public schools, senior centers and parks.
Get involved and help re-elect our Democratic Assemblywoman Rebecca Seawright!
Contribute to Assemblywoman Rebecca Seawright's re-election campaign!
Find out what Assemblywoman Seawright has accomplished and what she will do next!
As we mourn the passing of United States Supreme Court Associate Justice Ruth Bader Ginsburg, let us each reflect on how her pursuit of justice, equality and the liberation of our human rights touched us so deeply.
I remember seeing her on the bench when I was sworn in to practice before the Supreme Court. I could not take my eyes away from such a fearless warrior, a courageous trailblazer, unafraid to stand up for all of us.
There she sat, the second of four female justices to be confirmed to the Court, bringing her distinguished legal career to the highest judicial body in the nation. It was an incredible and incomparable journey centered around advocacy of gender equality and human rights and the many barriers she overcame on behalf of women everywhere. As a law student at Harvard University, she was one of only nine women members of the class, and the first woman to serve on the editorial staff of the Harvard Law Review. She witnessed first-hand the institutional barriers to academic equality.
As a law professor, she co-founded the first law journal dedicated to women's rights, "The Women Rights Law Reporter" and was founding counsel of the "Women's Right's Project"of the American Civil Liberties Union. She wrote the first textbook on sex discrimination law, "Text, Cases and Materials on Sex-Based Discrimination."
She was the first tenured female faculty member of Columbia Law School. She appeared frequently before the U.S. Supreme Court, arguing cases of sex discrimination, earning a national reputation as a leading advocate for the equal citizenship of women.
Appointed by President Bill Clinton to the highest court in the land, she brought her record of championing the rights of women to cases of pay equity, a woman's right to choose and gender equality at all levels of our society. Associate Justice Ginsburg was the first member of the court to officiate a same-sex wedding, two months after the landmark Supreme Court decision that the federal government must recognize gay marriage.
I also saw her speak at a "Veteran Feminists" gathering. I remember her saying that "Every constitution written since the end of WWII includes a provision that men and women are citizens of equal stature. Ours does not."
When I introduced and became the lead sponsor of the Equal Rights legislation in the New York State Assembly to amend the New York State Constitution, I did so with the guiding inspiration of Ruth Bader Ginsburg.
We mourn her passing with deepest sadness over our collective loss. Yet her passing must give us renewed strength. She proved that, against all odds, she could make an enormous difference in the battle for a just society. As the Associate Justice said, "Women belong in all places where decisions are made." The torch is now in our hands. And we will organize to protect and advance her legacy.
Read the original Op-Ed on Our Town.
Latest News
Seawright to City: Reopen Indoor Pools- August 24, 2020
Cuomo orders State Police to investigate anti-Semitic graffiti on UES – August 13, 2020
'We Will Not be Intimidated': Seawright on Anti-Semitic Graffiti – August 12, 2020
New York Assemblywoman target of anti-Semitic vandalism – August 12, 2020
Public officials, students request CUNY tuition hike freeze – May 19, 2020
Nurses give inside look at 'nightmare' NYC-run adult-care center – May 17, 2020
Supplies sent to Coler Hospital on Roosevelt Island following complaints from staffers – April 17, 2020
Roosevelt Island residents team up to buy, donate PPE to local hospital – April 4, 2020
As Cuomo Proposes Expansive Equal Rights Amendment Favored in Senate, Assembly Again Passes Narrow Version – January 14, 2020
Latest News
Find Rebecca Seawright

Rebecca Seawright
2 days ago
My statement on the decision surrounding the killing of Breonna Taylor. …
Read More



Rebecca Seawright
2 days ago
Stop by our open house until 7pm. Our headquarters are 1292 First Avenue (69/70 Streets). Learn about early voting 🗳, pick up your absentee ballot and get out the vote on the Rise and Unite Line fo…
Read More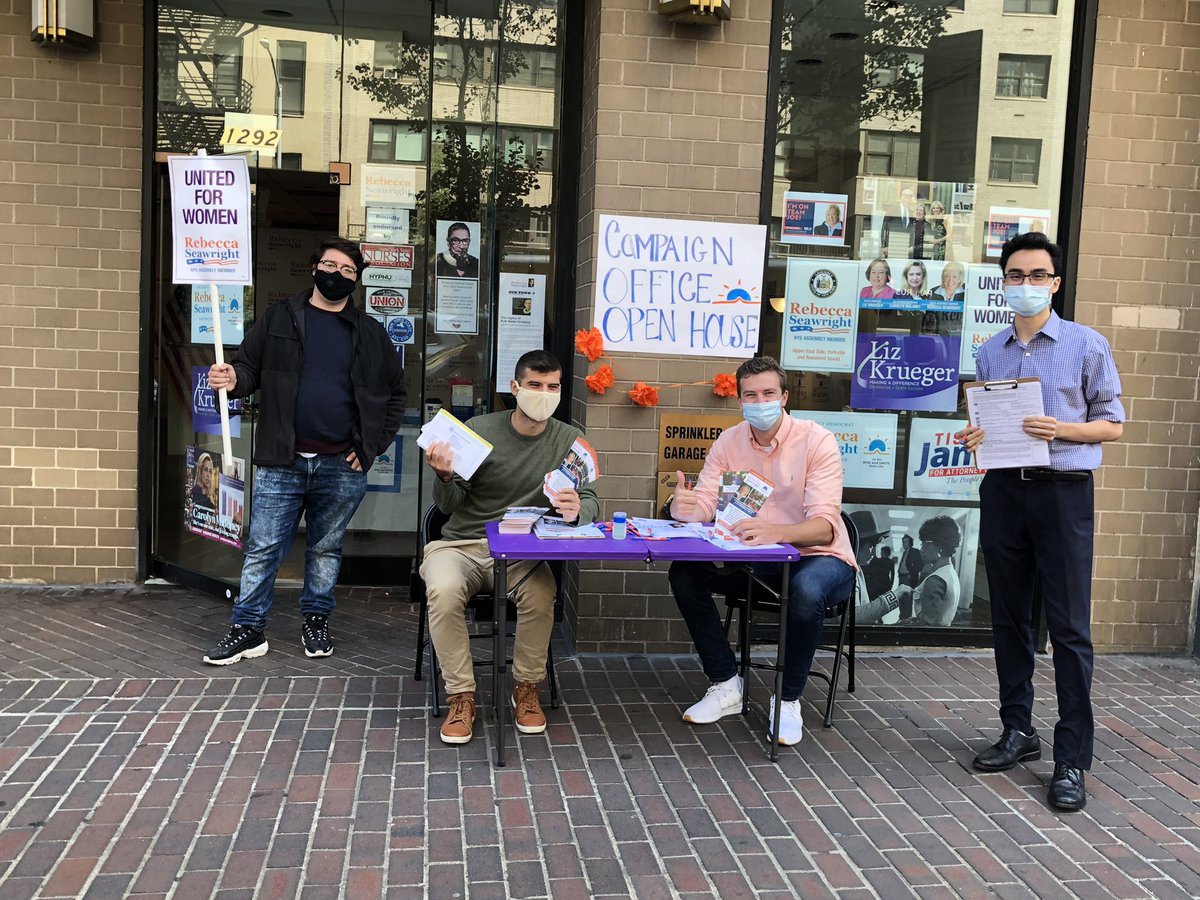 Rebecca Seawright
3 days ago
Yesterday, the first steps were taken in the re-opening of District 75 after 6 mos. Thank you to PS138 @esmsnyc teachers, admin, families and principals for making a safe transition possible. Our s…
Read More



Rebecca Seawright
3 days ago
Your voice matters. Make sure you're registered to vote for #Election2020. Get started here ⬇️
https://t.co/6TNUjOByLD https://t.co/ZH8k5aWn7F…
Read More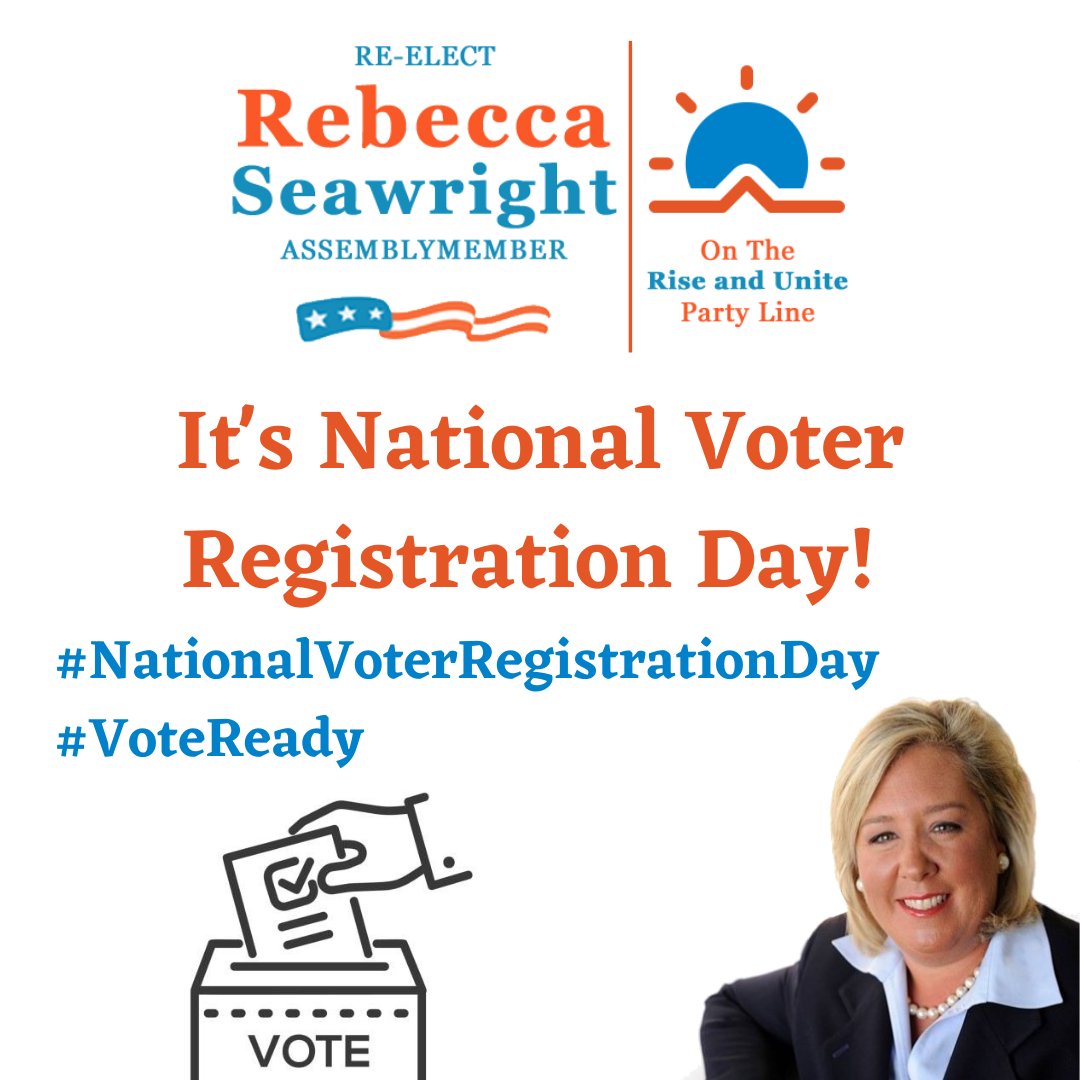 Rebecca Seawright
3 days ago
We mourn her passing with the deepest sadness over our collective loss. She proved that, against all odds, she could make an enormous difference in the battle for a just society. The torch is now in …
Read More



Rebecca Seawright
4 days ago
RT @SeawrightForNY: I am pleased to support the DOE fund with a supply of PPE for their workers. The DOE fund helps us by keeping our comm……
Read More



Rebecca Seawright
4 days ago
RT @SeawrightForNY: Join us for another edition of Town Hall Tuesday on the re-opening of restaurants in our neighborhood! 7pm on Facebook……
Read More



Rebecca Seawright
7 days ago
We deeply mourn the passing of Associate Justice of the U.S. Supreme Court Ruth Ginsburg.
She was our steadfast champion, the conscience of the court, fighting to protect human rights and against sex-…
Read More



Rebecca Seawright
7 days ago
L'Shanah Tovah! Wishing those celebrating Rosh Hashanah a sweet and healthy new year! https://t.co/Dxk8w5pssz…
Read More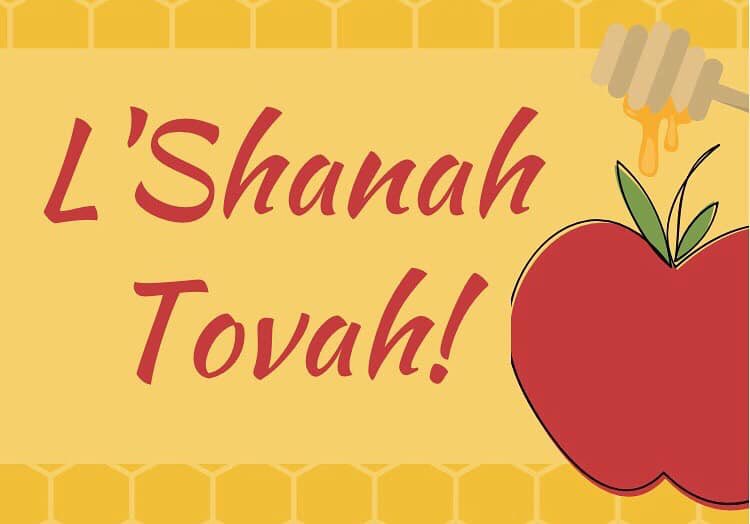 Rebecca Seawright
1 week ago
Team Rebecca at campaign headquarters providing information on how to vote early, vote by mail or vote in-person on Nov. 3. Check to find your assigned Early Voting and Election Day poll sites. http…
Read More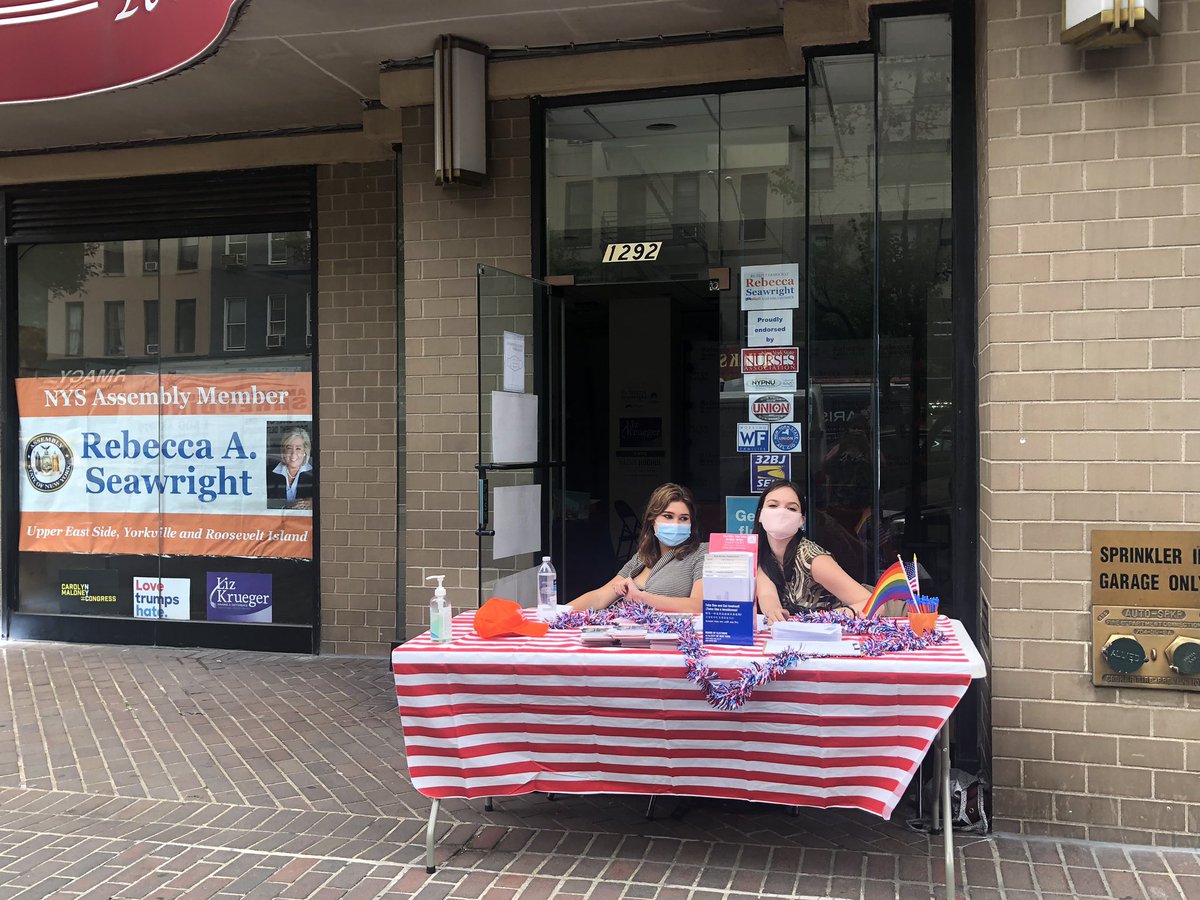 Rebecca Seawright
1 week ago
RT @CB8M: Community Announcement: @NYCMarymount and @NYCHealthSystem will be hosting free #COVID19 #Testing at their campus this week, 220……
Read More



Rebecca Seawright
1 week ago
Endorsement Alert: US Senator Kirsten Gillibrand Endorses Seawright on the Rise and Unite Line! #76ad #NYSAssembly #RiseandUnite https://t.co/zVZXjpwepI…
Read More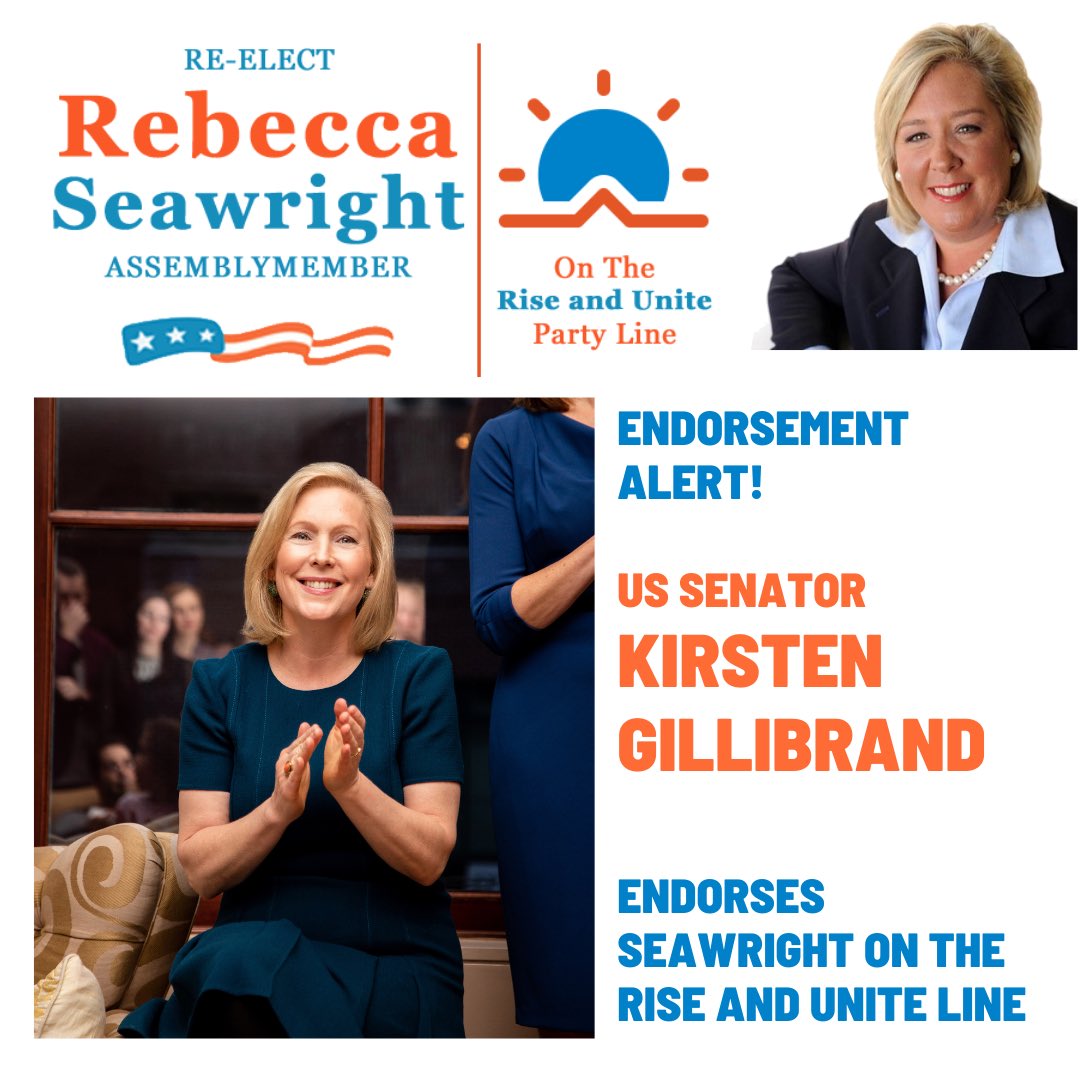 Rebecca Seawright
2 weeks ago
RT @BenKallos: We're live right now with @Rebecca76AD and @nycemergencymgt, discussing the best safety & emergency preparedness protocols!……
Read More



Rebecca Seawright
2 weeks ago
It has been great speaking with voters about my re-election campaign on the Rise and Unite line!
Momentum is building. Join us: https://t.co/8RYX5TlJVj…
Read More